Being More Modern, Smesco Indonesia Open Minds With Digital Marketing
---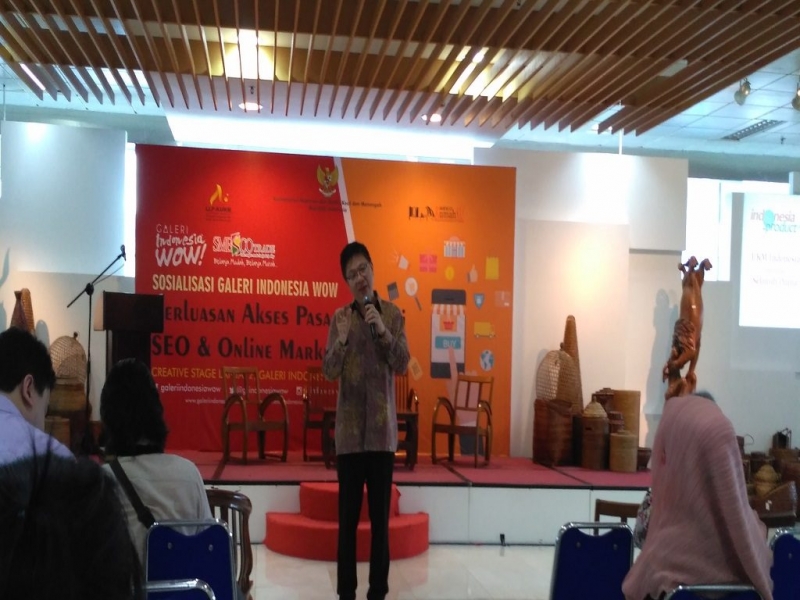 Who knows that Indonesian economic was having the open path for international market makes Indonesian local products have a big chance to competing with the other products from another country. Yes! Fortunately it welcomed by Indonesian society and government. Everybody here is competing to set up the business and learn step by step how to be a successful entrepreneur.
In Jakarta, the capital city of Indonesia, there was Smesco Indonesia that built by the government as the showroom gallery for the Indonesian Products from all over Indonesia. This building has two kind of display areas. First, called as Galeri Indonesia WOW. It is as similar to a store or usually also called as the Curated Concept Stores.
Some of the selected product are displayed here. The Galeri Indonesia WOW is located on the 1st and 2nd floor. On the first floor, the visitors could see various kind of batik collections; from men's wear, women's wear, to children's. Meanwhile, the 2nd floor is the place where the visitors could find many arts, shoes, bags, and some households.
The second display is provinces display at Paviliun Provinsi (Provincial Pavilion). The visitors will see wide variety of products from all provinces in Indonesia. From floor 12 and 15 of Paviliun Provinsi, the visitors could only see several provinces, such as Papua, Jambi, South East of Sulawesi, Bengkulu, Riau, West Sumatera, North Sulawesi, and Jakarta. Guarantee, visitors will amaze to visit this area. They can find many things in this place, from the handicrafts, traditional clothing; including many batik collections, shoes, bags; and of course the food.
In the first December 2016, in order to supporting cooperative and Indonesian SMEs expanding the market access thru e-commerce, marketing services and agencies – Cooperative and SMEs, Smesco Indonesia held a workshop with the theme " The Expansion of SMEs Market Access". This event was invited all of Indonesian entrepreneur who is a member of Smesco. It also attended by several speakers.
As the theme, at that workshop, Smesco was invited Indonesia-Product.com as the media partner to promoting Indonesian Products via digital marketing. Realizing that internet marketing is very important and has a very strong relation to the purpose of Indonesian products market expansion, Smesco Indonesia is now holding Indonesia-product.com to promoting Indonesian products to over the world through online marketing.
Indonesia-Product.com with their strength, has a high page rank on internet, was build a website smesco.indonesia-product.com that aiming to providing gallery showroom for the all Indonesian SMEs, the member of Smesco known by all over the world with ease. So, everybody here could find Indonesian products by online.
More info visit: www.indonesia-product.com