"DIY" Produce Corn Skin And Banana Midrib Miniature Crafts
---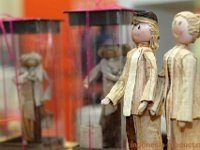 Miniature craft is always related to handmade creation which could be imagined the uniqueness and art. The familiar miniature craft we see is usually made of wood, bamboo, clay, paper, eggshells, dried leaves and many other types of materials. In fact, waste materials can also be recycled into unique crafts.
This time, in Surabaya there are miniature craft craftsmen who choose to use banana fronds and corn skin to be used as traditional bride miniatures and other craft types. It is unique and has a natural impression on this craft. How to make a banana midrib craft is not that difficult, just make the initial design of the object that you want to make. After preparing the equipment and materials needed as a complement to the main ingredient, dried banana fronds.
Here we will hack the steps to make quality Banana Midrib miniature crafts:
To make crafts that produce better quality products, of course we have to use good banana fronds as well. For that we must be able to choose the type of banana midrib that has good quality, one example is the one that has dried on the tree, namely the condition of the midrib is completely dry so there is no need to experience the drying process, just aerated
In order for the impression of the products produced from these crafts to be more natural, you should not need to use artificial coloring or preservatives. Usually craftsmen use the natural color of the banana midrib to adjust the theme of the product made. To glue pieces of banana stem can use glue such as paper glue, or Fox glue.
indonesia-product.com