Pottery Craft From Indonesia
---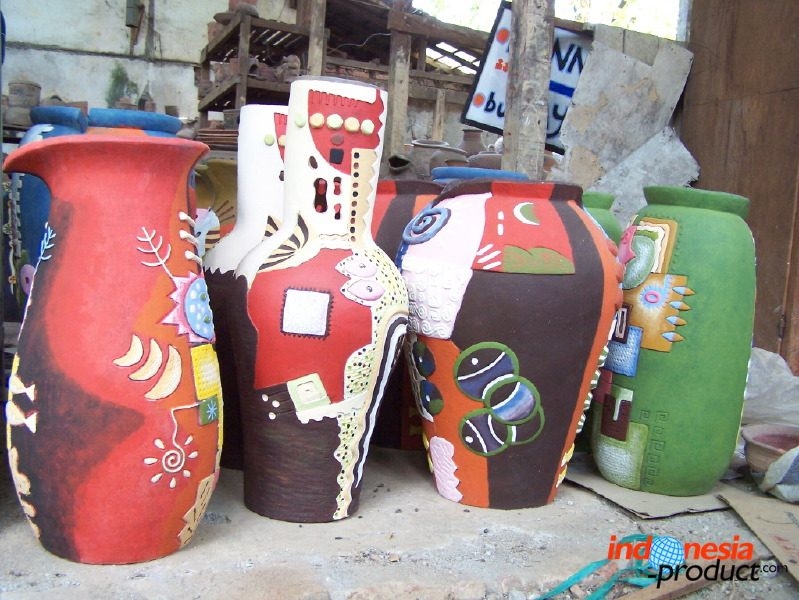 Pottery is clay products, formed in several shapes that is burned with hot temperature of around 500 centigrade. Generally, the objects made of clay and burned with certain temperature are called ceramics. Indonesia itself has rich tradition of pottery craft since prehistoric times. This tradition has fulfilled the people needs of daily tools for centuries.


In the past, as it is now, clay was formed by hand and burned by open burning at backyard and produced reddish products called pottery. This simple method does not hinder the creativity of craftsmen to make beautifully shaped water jug, elaborately decorated ceremonial tools, or beautiful jars. Indonesia has many pottery villages, but some villages have begun to use technology to make pottery, to adapt modern market change.


Pottery villages can be found in all Indonesian provinces except Papua. Many villages such as Gala Kandang in Payakumbuh West Sumatra, Kayu Agung in South Sumatra, Ciruas in Banten, and Anjun Village in Indramayu West Java, Bayar and Dolon village in Klaten, Central Java, and Banyumulek, Pamunjak and Mastagik at Lombok Island still produce traditional pottery using old techniques.


The length of pottery making depends on the size and ornaments that decorate it. Ten small size wall display pottery can be done in a day. While large barrel-shaped pottery layered with eggshells can spend days in the process.


There are many pottery products, including ashtrays, wall displays, teapots, dragons craft, to ceramic jars, and large barrels. To produce gradation effect on pottery, after being burnt, the craftsmen sprayed boiled sour seed liquid. The gradation effect of making pottery looks more charming and artistic.