1
« Last post by larik on October 30, 2017, 11:26:25 AM »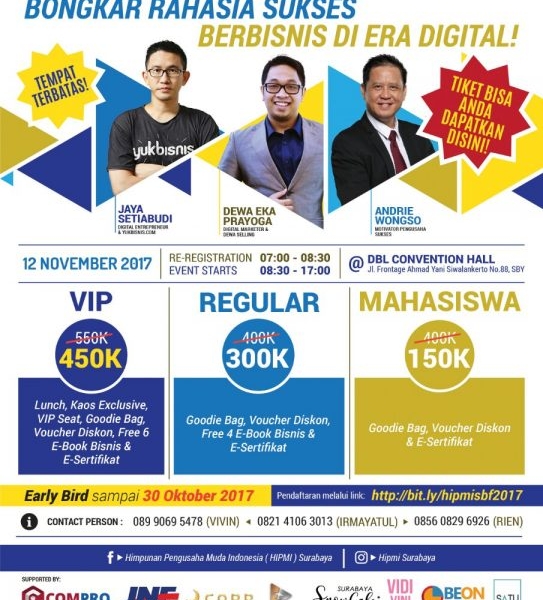 "Surabaya Darurat Digital" Surabaya Business Forum 2017, DBL Convention Hall Surabaya
SADARKAH KALAU FENOMENA SHIFTING SEMAKIN NYATA?
Apakah Anda sedang merasakan hal-hal berikut ini :
- Omset toko kian menurun, pembeli kian sedikit?
- Harga iklan di koran dan majalah naik, tapi pengunjung toko tidak ikutan naik?
- Punya toko di mall tapi pengunjung makin sepi?
- Sudah promo gila-gilaan di toko tapi pengunjung tetap sedikit?
Apakah ekonomi sedang lesu?
Dulu orang beli barang harus ke toko, ke mall, ke pusat perbelanjaan. Sekarang, orang beli barang dari internet. Buka handphone, buka laptop, searching2, klik PESAN, beres! Tunggu barang dikirim pakai Ojek atau Kurir. Tokopedia, Bukalapak, Olx, Instagram, Facebook, dan Google telah melahirkan banyak pebisnis baru dengan omset jutaan hingga milyaran per bulan. Jika ekonomi sedang lesu, maka tidak mungkin Alibaba menginvestasikan uangnya ke Tokopedia dengan jumlah belasan triliun rupiah. Tidak mungkin banyak start up lokal yang mendapatkan pendanaan dari Venture Capital asing. Artinya, ekonomi tidak sedang lesu, hanya berpindah!
Apakah Anda saat ini punya bisnis offline dan ingin meledakkan penjualan dari internet?
Apakah saat ini Anda sudah punya bisnis online tapi belum maksimal?
BELAJAR BISNIS ONLINE LANGSUNG DARI PAKARNYA, YUK!
Dengan 3 pembicara nasional yang sudah terbukti sukses di bidang bisnis, terutama bisnis online/digital. Siapa saja mereka?
1) JAYA SETIABUDI
Owner dari Yukbisnis.com, founder Young Enterpreneur Academy, dan penulis buku best seller : Kitab Anti Bangkrut dan The Power of Kepepet.
2) DEWA EKA PRAYOGA
Dewa Selling, penulis buku Easy Copywriting, founder Billionaire Store.
3) ANDRI WONGSO
Pebisnis dan motivator kelas nasional.
Datang ke event ini, belajar bersama, dan jalinlah networking yang berkualitas bersama pengusaha-pengusaha lain di seluruh Indonesia!
Mereka bertiga akan sharing ilmu-ilmunya selama 1 hari penuh pada tanggal 12 November 2017 di DBL Convention Center Surabaya.
More Info:
hipmisurabaya.or.id