A Backless Chair, Finest Teak Stools in Modern Living Space
---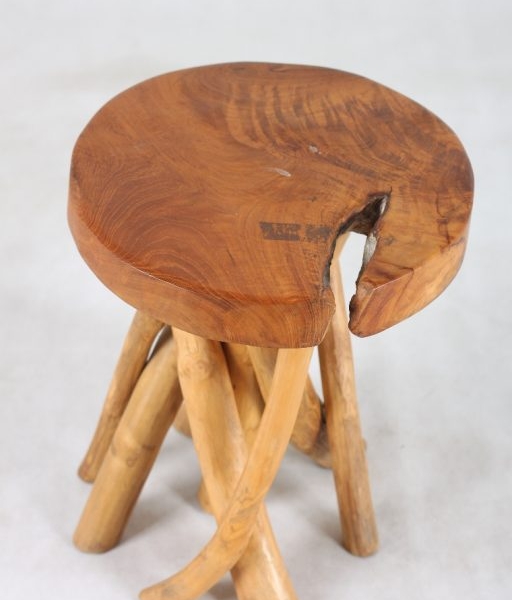 Having a comfortable home is everyone's dream. Especially when this house has a modern style that you can be proud of when a friend comes. But what you need to fix, feel modern is not only presented with complicated decorations. You just have to give a few accents at home, for example by putting a bar chair.
One of the earliest forms of wooden furniture we known as stools, bench-style bar stools is seat furniture for one person without back or armrests (in early stools), on a base of either three or four legs. A stool is generally distinguished from chairs by their lack of arms and a back. Variants exist with one, two or five legs and these various stools are referred to by some people as "backless chairs". Some modern stools have backs.
The origins stools is formerly claimed has introduced through Norse culture into Europe. By the time this things has various kinds of it forms, height, structure, materials up to its making proccess. Some of craftsmens are using logam yet the others are prefer wooden stools such as mahogany, oak, trembesi, sapodilla, pine, birch, and the famous durable finest teak wood to be crafted. The reason of choosing wood material is because unlike metal benches and other materials, wooden benches have warm elements that are suitable to be placed in many rooms. The shape of a wooden bench is round, square, curved, long, short, and even has a unique twist like a work of art.
In all modern living space, whether intended for indoor furnitures or outdoors, here's stools-list that you can take a note at:
Stools with four legs and square form is made of finest teak wood which has mixed with goatskin on the seat. This kind of stools is not too high, you can placed it on indoor living room.
If you want have one of unique stools to sit at outdoor, this gendang brick from Jepara has round form like "Gendang" such as its name and designed like a bricks could be your outdoor room home décor.
For those who designing their home with natural nuance, Talenan Stool could be a right choice to grow the athmosphere. It has such as root with a lumber on top.
Those are 3 types of wooden stools for your home decoration references. Find the other qualified furnitures from Indonesia here.
(Lc/indonesia-product.com)