Bath Salts And How To Use It
---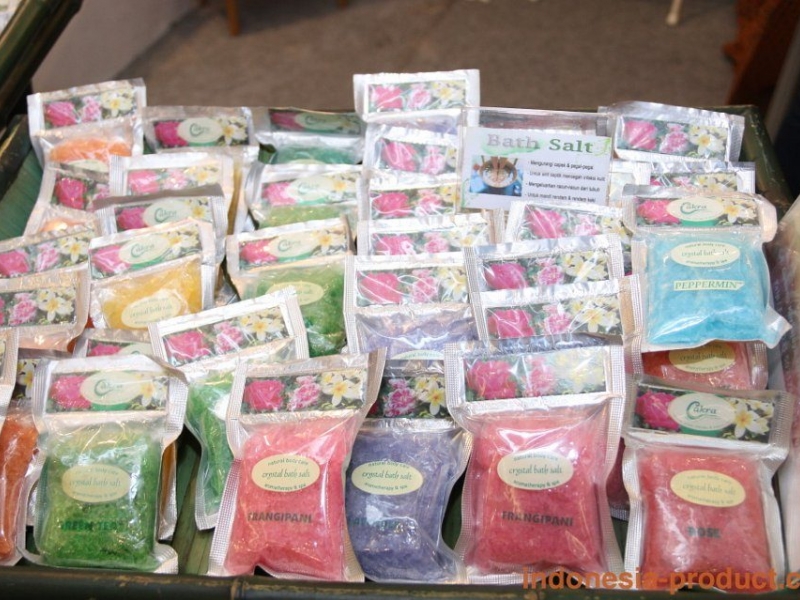 Bathing is an important thing for beauty and smooth blood circulation. To make bathing activities more enjoyable, you can use the bath salt which is popular todays. Bath salts can soften the skin, make your body and mood more relaxed. By put bath salts in warm water, your skin can absorb high-quality mineral ingredient. In addition, bath salts can also prevent a decrease in body temperature, increase the body's metabolism, and make the skin more moist.
If you use aromatic bath salts, your body will feel relaxed and bath time will be even more enjoyable. Indonesian bath salts are rich in minerals needed by the body. It is ideal for hydrotherapy to relieve fatigue in the body, relieve tense nerves, stiff muscles and swelling of the skin. Besides, bath salts can also be used as aromatherapy to calm the mind.
Bathing with bath salts can solve some skin problems. Beside that, it can also make your body relax and absorb a lot of natural minerals which are certainly useful for improving health and beauty. Just spend about 30 minutes, then your body will feel refreshed, especially for those of you who are tired after a day of activities.


How to use Bath Salt
Besides knowing how to choose the right bath salt product, you also need to know how to use it to get maximum results. Here's how to use the bath salt:
- Prepare a bath salt product that you will use
- Dissolve bath salts according to the prescribed dosage into warm water. You can mix it with essential oils. Adjust to the size of the your bathtub or basin.
- Stir with hands so that the salt is evenly distributed
- Soak for about 20 minutes, then rinse with warm water. Or if you don't use a bathtub, take a shower as usual.
So, you already know the benefits of bath salt for bathing now. Not only cleanses the body, bath salts also accelerate your blood circulation, relax the mind, to detox which can remove toxins from the body.
Well, the amount of bath salts on the market makes you have to choose a good and right product. By using the right bath salt, bathing activities will be even more fun and the results will be more optimal. Good luck!