Batik Situbondo Dominated With Marine Biota Motifs
---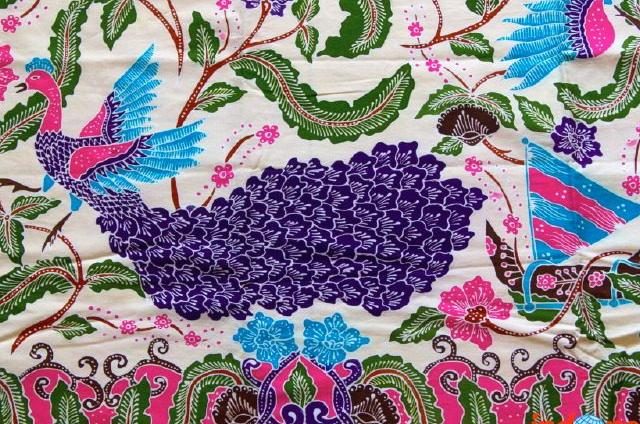 Situbondo Batik is an original batik craft from Situbondo Regency. The regency is located on the north coast of East Java. Besides the amazing natural beauty, this regency also keeps the beauty of batik cloth. Most of these batik use shells motifs because Situbondo settled at north coast. The characteristics of Batik Situbondo are brightly colored, using animal motifs such as butterflies and sea animals.
Situbondo Batik has made in several villages in Situbondo, start from batik production in Selowogo village, Bungatan district which has been exist for long time and known as Batik Lente. There is also Cotto'an Batik in Peleyan village, Kapongan district. Then Batik Kilen came from Kilensari village .
Batik Lente
Batik Lente motif has dominated by sea shells and mangrove leaves. Named Batik Lente because the beginning making of this batik using sticks, which in the Madurese language called as Lente. As the times evolved, the sticks were replaced with batik canting. The Batik Lente Center is located in Selowogo village, Bungatan district. The craftsmen mostly use marine life theme motifs such as shells, jellyfish, mangrove leaves, sand color motifs, sea blue motifs and others.
Batik Cotto'an
This batik is one type of batik in Peleyan village, Kapongan district, Situbondo. The name of Batik Cotto'an is taken from the name of seller's origin village. The person who first sold this batik cloth came from Cotto' village, even though this fabric was actually produced in Peleyan village and has been for years. The buyers only know that the seller is from Cotto' village, finally this batik is better known as Cotto'an Batik. Most of these batik are brightly colored and use sea-themed motifs.
Batik Kilen
This batik is made in Kilensari village, Panarukan district, Situbondo. This batik has different style and characteristics than other batik. The Batik Kilen motif uses red bougenvile motifs, shell motifs, and water themed motifs.