Glasspainting For Home Decoration And Souvenirs
---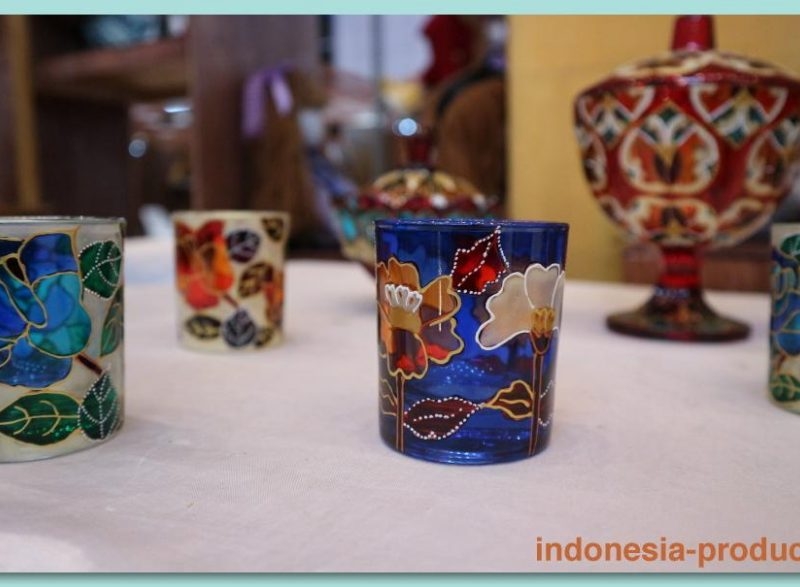 Glasspainting is skill-craft in painting on glass or mirror. This glass craft has distinctive artistic value because with variety of beautiful colors, this glass craft is different from decorative glass, usually found in souvenir shops or craft shops.
Glasspainting products often referred as decorative glassware formed in glasses, jars, used bottles, decorative lights, candle holders, vases, bowls, cigarette ashtrays etc. In order to be able to paint on the glass material any object made of clear glass can be painted or colored based on our wishes, moreover transparent and shiny clear glass makes the appearance of the glass colors increasingly prominent and has its own artistic value.


Beside has artistic value which usual become hobby, as decoration, the creations of glasspainting can also have their own selling value and can add to craftsmen income. Nowdays, there are already plenty of evidence of successful Indonesian craftsmen with glasspainting. Especially before the year-end holidays. Besides domestic, orders for glasspainting also come from Europe and America.


Painting on glass media called easy to bother. Each glass has its own characteristics. Because glass media which tends not to be the same between one glass and another, affects the paint selection process. Various painting objects were chosen well to fit and match the size of glass such as scenery, character, or certain logo. Among many patterns of painting made, the most difficult to make is landscape paintings and brand logos, because they have to be drawn as detailed as possible. The motives that are most requested by consumers are floral and butterfly motifs.


Glasspainting can be applied to decorative glass, glass, jars, used bottles, decorative lights, candle holders, vases, bowls, etc. For those of you who are looking for artsy souvenirs for weddings or other events, then this glasspainting product can be the beautiful alternative. In addition to souvenirs, this product can also be used as decoration in your home.