Go Digital Go Global: Surabaya SME's Are Now Being Ogled by International Market
---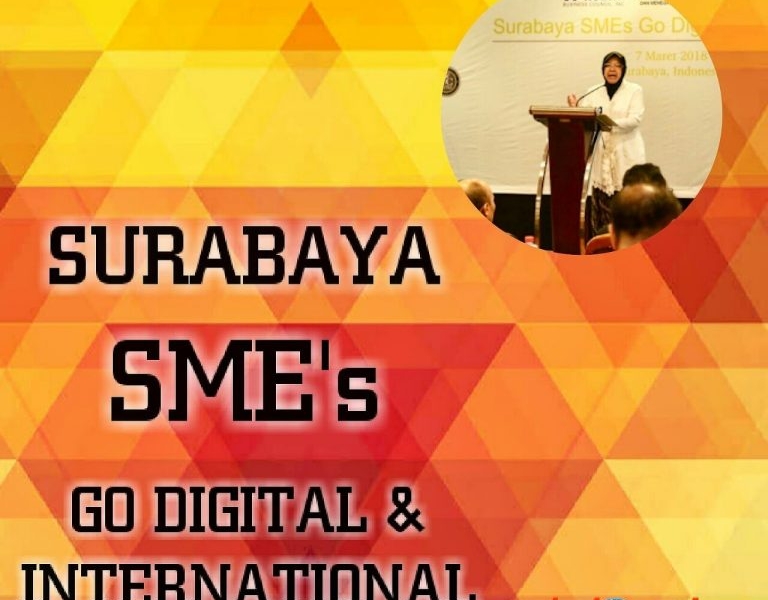 Surabaya (07/03/18), Surabaya SME's should be proud! The Mayor of Surabaya Tri Rismaharini states 98% of economic development in the City of Hero is sustained from the sector of Small and Medium Enterprises (SMEs), the remaining 2% are large companies.
SMEs who are members of the Government of Surabaya City in Heroes of Economics & Young Warriors now being ogled by international market. Reportedly the United States who joined in the US-ASEAN Business Council offers digital solutions to SMEs Surabaya to access the global market. Together with the US Consul General and the Indonesian Ministry of Cooperative and Small and Medium Enterprises Indonesia invited more than 200 SME owners in Surabaya and surrounding areas to participate in a workshop titled "Surabaya SME's Go Digital and International".
With 98% of SMEs developing in Surabaya, the economy of Kota Pahlawan is quite stable. The mayor of Surabaya wants this SME to go up the class, which must be able to international level! Reported by jatim.antaranews.com, "At least with this event, SMEs are increasingly competitive in the future, and this is possible because she emphasized the SMEs to compete through Go Global Go Digital, which means Go Digital is chosen to market the product through technology, while Go Global works with designers to create packaging and branding".

Tri Risma also exemplifies several segments of SMEs have been able to export products abroad, "Now batik Surabaya, fashion, handicraft and others we have exported abroad such as Africa and Europe," She said. In this workshop also multinational companies like Facebook, FedEx, Google, Cisco and HM Sampoerna also provide training. Event events like this are expected to increase the insight of SMEs, especially those located in Surabaya to reach the global market through digital technology.
Deputy of Production and Marketing, Ministry of Cooperatives and SME, I Wayan Dipta said the role of MSMEs becomes very important for Indonesia to be developed into a developed country with a strong economic foundation. In ASEAN region, according to data from Deloitte, it has grown as the fastest internet-based area in the world. Currently, there are 260 million internet users in ASEAN and 700 million active mobile device connections. Of these about 70% of internet users are residents under the age of 40 years.
From this condition, the digital economy in ASEAN generates about 150 billion US dollars per year in the period 2015. As much as 40% of online services and connectivity. Therefore, according to Wayan there are things that include funding, taxation, consumer protection, education and human resources, communications infrastructure, logistics, cyber security, and the establishment of managers should be managed as well as possible.
Wayan added, "This kind of activity is certainly very much expected for SMEs to be able to reach the upper class by utilizing digital means." Such activities need to be held in every region to build an international quality SME.