Indonesia Fruit Chips - Healthy and Delicious Snack
---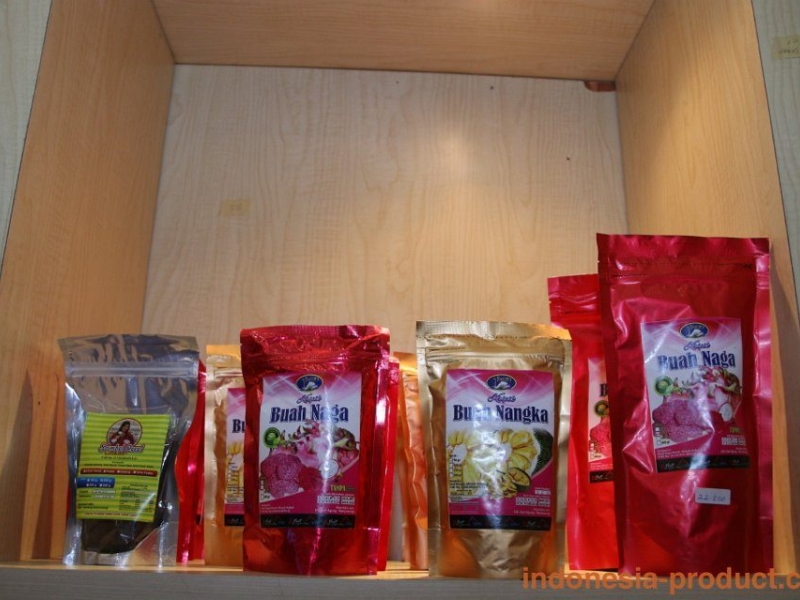 Indonesia is indeed rich in biodiversity including fruits: pondoh zalacca, Balinese bark, Malang apple, and many areas throughout Indonesia that have abundant fruit yields. So abundant, during the harvest, farmers were confused about selling their fruits. But now there are innovations that benefit farmers. By using sophisticated machines, fruits can be processed into delicious and more durable chips.
As a healthy and nutritious alternative snack, this product has a high market demand and go exported because this product does not contain chemicals. Both quality, taste and aroma, all the same as the fresh fruit. Because it is produced with special technology and comes from fresh fruit, these fruit chips have the same ingredients as the fresh fruit. Product durability starts from the date or production period can reach a maximum of 12 months with special requirement; no leakage on the aluminum foil bag (always tightly closed) and stored at normal and dry temperatures. If the chips packaged with other material, not aluminum foil bag or ordinary plastic packaging, it will shorten the product's expiration.
Actually, on average all fresh fruit can be processed into chips, but at least there are some superior fruit chips that commonly known by consumers:
Mango Chips
When the harvest arrives, usually the mango is abundant and the price falls cheaply. While the mangoes are usually not long-lasting, the chips are made to make them more durable. The sweet taste of mango chips, crunchy, and sweet aroma make this mango chips not only favored by the local market but also has high opportunities for exports such as Thailand.
Banana Chips
One of the most phenomenal fruit chips is banana chips. The chips have also been mixed with varied variants such as chocolate banana chips, greentea, spicy flavor and so on. Banana chips are very easy to find in the nearest gift shops and supermarkets.
Red Dragon Fruit Chips
Dragon fruit has a high vitamin C, but the dragon fruit taste sometimes feels too sweet, tasteless or sweetly sour. This makes consumers who are not accustomed to enjoying dragon fruit feel uncomfortable. One alternative to overcome this problem is processing it to chips.
Pineapple Chips
Pineapple fruit which is famous for its sour taste turns out to be processed into chips. The sour taste will decrease and even not tasted again after processed into chips. This is one alternative for fruit consumers who don't like fresh pineapple.
Jackfruit Chips
Jackfruit chips are one of the most favorite fruit chips or can be called the best seller. Sweet taste of jackfruit, appetizing color, makes anyone want to taste it. No wonder that jackfruit chips are easily found anywhere because they are one of the most popular souvenirs bought by tourists.
Zalacca Chips
Zalacca fruit is delicious fruit. But for those who like to enjoy zalacca in another forms, Zalacca chips are one alternative to eat when relaxed and serve as snacks.